Because of the rapidly growing population, Indonesian cities are faced with huge challenges in traffic, waste and the environment. This asks for innovative and smart city solutions. Staff of Technical Institute Bandung (ITB), associated governmental representatives and representatives of the private sector were in The Hague in September for a three-week training on the Research and Development of Smart Cities. This was organised to help them in designing and managing smart city projects in cooperation with business, knowledge institutes and civil society (Quadruple Helix).
The training course provided the participants with concepts, state of the art technology, and practical applications in the field of smart cities concepts (integrating multiple information and communication technology solutions in managing city's assets) and an opportunity to jointly discuss how the lessons learnt could help Indonesian cities in applying smart solutions to improve citizens' quality of life.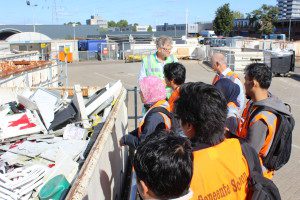 The group of seventeen participants travelled a lot through The Netherlands to observe smart city solutions related to issues such as mobility, waste management, ecosystem, security. They were informed about the smart city policies of the Municipalities of The Hague, Eindhoven and Amsterdam and visited a business incubator in Delft and the Valorisation Centre of TU Delft. "This programme really broadened our point of view on different smart solutions and our way of thinking. People in our group have different specialism so this was also a great opportunity for us to discuss these new ideas and solutions with each other", said one of the participants.
After this training, the participants will receive coaching and feedback from Dutch experts together with local experts on the implementation of their Back Home Action Plans.
This programme was designed in cooperation with Delft Technical University and KING (Quality Institute for Netherlands' Municipalities) and financed by StuNed Dutch-Indonesian scholarship programme.