The Hague Academy courses helped Kamaran broaden his perspective: 'Learning about the experiences of other countries that are trying to address similar issues to the ones we have in Kurdistan has inspired my work'

Kamaran was enrolled in The Hague Academy courses for the first time in 2016. The different perspectives of his fellow participants and the overall experience during the trainings changed his professional practice. He now works as a lecturer himself and does research on the barriers to stabilization in areas re-taken from the Islamic State in Kurdistan.
Where does your interest in local Governance come from?
In 2014 I went back to Kurdistan after completing a Master's programme abroad. At that time ISIS occupation was advancing and the region was going through a big crisis of internal displacement. In 2016 I participated in my first course at The Hague Academy: Citizen's Participation and Inclusive Governance. This experience brought me for the first time to analyze different issues in society from a local point of view. Since then I have been advocating for the involvement of civic society in local government. I realised how important good local governance was in addressing the conflicts in Iraq. Kurdistan is a diverse society with people from different identities and religions, and local governments should protect these diverse identities.
In 2017 I decided to come back to The Hague to participate in the course on Conflict, Rule of Law and Local Security, and most recently I joined the Integrity and Anti-corruption course. I have been very lucky to attend all three courses with scholarships of the Nuffic Mena Scholarship Programme financed by the Ministry of Foreign Affairs.
What skills are you putting to use now that you learned at The Hague Academy?
The trainings introduced me to frameworks and tools that have been extremely practical for my work. I believe that all participants have great knowledge and understanding of the problems in their own contexts. What we gain from the trainings is the ability to translate our knowledge of our territories into effective local governance practices, learning not only from the Dutch experience but from other countries.
I also learned to look at issues from different perspectives, not only from the perspective of the government but also from the perspective of civil society. I learned about the importance of involving different stake-holders in policy-making and local development processes, and addressing the interests, power dynamics and power relations between these different stake-holders.
The Hague Academy courses are designed with a great combination of both, theoretical and practical elements, and it is amazing to see how other countries and societies experience similar problems that your own. This inspired me, even though problems and solutions are context-specific, learning about the experiences of other countries that are trying to address similar issues than the ones we have in Kurdistan is one of the highlights of my experience in The Hague Academy.
What have been the main accomplishments of your back-home action plans?
I managed to work on truly sustainable back-home action plans that have been with me for many years. I can highlight the empowerment of young activists in Kurdistan. I have been focusing on transferring my knowledge to them. Just last month, I gave a presentation to around 40 young activists across the Kurdistan Region. This was part of a project supported by the local NGO Coordinating Network Organization (CNO) and American Stratford University of Erbil. In my presentation, I introduced key concepts in the field of youth participation; practices of participatory policy-making, challenges to youth participation in fragile and conflict settings, and engaging youth in the fight against corruption.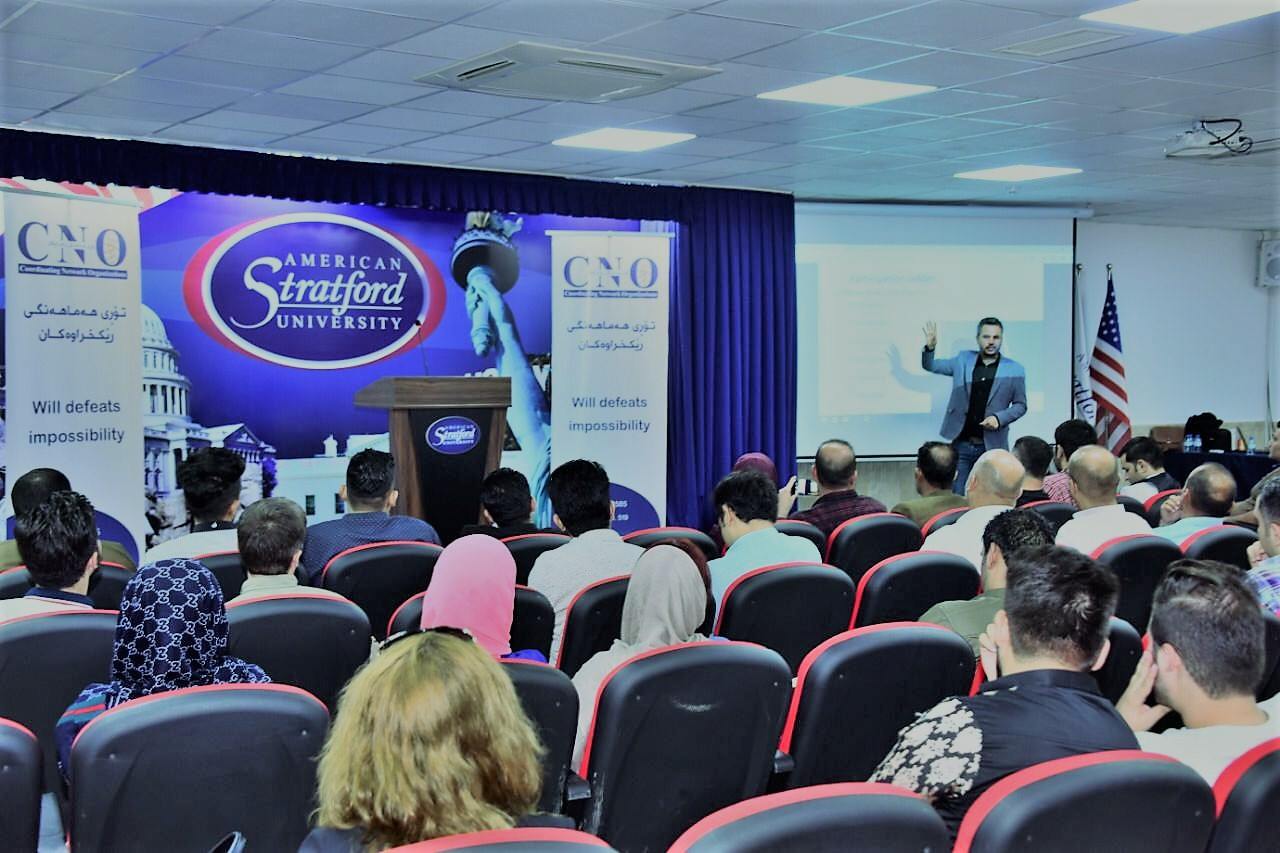 A few days later my colleagues at Salahaddin University-Erbil organized a round-table discussion around 'Countering Violent Extremism with a Human Security Approach in Iraq'. The workshop was part of a current research grant (funded by the Netherlands Organisation for Research). The activity brought together experts, policymakers, and government officials, as well as representatives of minorities, CSOs, and international organisations. My presentation was significantly shaped by my learnings during the Conflict, Rule of Law and Local Security course in 2017. The workshop created a space for collaboration and communication between civil society and security institutions in Kurdistan.
How do you envision Kurdistan in the future?
In the past, my region was dealing with numerous conflicts with different communities. Currently is much more complicated. We now have to start dealing with conflict within our own communities, within neighbourhoods. This needs a lot of investment to improve social cohesion and strengthen the relations between citizens. This is what I am planning to contribute to, to move from crisis to a sustainable future for Kurdistan.
If you had to describe The Hague Academy in three words, which would those words be?
Home, positive and tomorrow
***The Hague Academy offers several practice-oriented training courses annually on different issues related to local governance. These short course are intended for civil servants, local practitioners, and professionals at donor and development organisations. Nuffic, a Dutch non-profit organisation, offers scholarships funded by The Dutch Ministry of Foreign Affairs for these training courses. The scholarships programme aims to develop and strengthen the skills and abilities of professionals, in order to enable their organisations and communities to succeed in an ever-changing world. Click here to find out more about the scholarship programmes available, the deadlines and the application procedures.