The situation in the Netherlands and the EU
Due to concerns about the third wave of the virus, the Dutch government has extended preventive measures. There is still a travel ban in place for passengers from outside the EU. Rules such as working from home unless it is impossible, avoiding busy places, staying 1.5 meters apart and wearing a face mask at indoor public places still apply to everyone. At The Hague Academy, our staff members are working from home.
European Union starts lifting travel restrictions for residents of some third countries
The EU Council adopted a recommendation on the gradual lifting of restrictions on travel into the EU. A number of countries are listed in the recommendation, with this list being reviewed and updated regularly.
As per the latest update on exemptions from travel restrictions (6 May 2021), EU states should gradually lift the travel restrictions for the following third countries:
Australia
Israel
New Zealand
Rwanda
Singapore
South Korea
Thailand
China, subject to confirmation of reciprocity
The criteria to determine the third countries for which the current travel restriction should be lifted includes the epidemiological situation and containment measures, including physical distancing, as well as economic and social considerations. Learn more.
On 3 May 2021, the Commission proposed Member States ease restrictions on non-essential travel into the EU, in view of the ongoing vaccinations campaigns and the developments in the epidemiological situation worldwide. The proposal includes allowing entry to all persons from countries with good epidemiological situations as well as all individuals that received the recommended dose of an EU-authorised vaccine. Please note that the Council is currently considering this proposal and the travel ban is still in place. 
Open subscription courses
First semester 2021
As restrictions on international travel continue to be in place across the globe, we have redesigned all of our face-to-face courses taking place during the first half of 2021 into an online format.
Our online courses take place in an innovative e-learning environment, easily accessible, even with low Internet speed. During the last year, our online courses have been highly appreciated for their interactive character. The combination of discussion groups, interactive live sessions, virtual study visits and self-paced activities have proven to be a valuable source of knowledge development.
Second semester 2021
At The Hague Academy, we are closely following the rules, regulations and guidelines regarding Covid-19, as set out by the Dutch Government. This includes the regulations regarding international travel, group size and other measures. In the event that the situation does not allow for the face-to-face courses scheduled during this period to take place, we will be obliged to adjust the format of the course. Of course, meeting the participants in person is our first choice and we are hopeful that this will be possible.
If there are any changes in the course set-up, we will inform all registered participants immediately. Depending on their source of funding, we will also inform them of their possibilities of either postponing or cancelling the course.
Tailor-made training
Under the circumstances, customised training is being offered online. We are going beyond the traditional webinars and have developed several interactive learning programmes. In these programmes, we combine presentations from experts with individual assignments, group work, games, video tours, study visits, individual coaching and live events.
Our trainers put a lot of effort into designing scripted content and deliver intensive e-facilitation. So far, they facilitated tailor-made, online courses for participants based in Jordan, Sudan, Uganda, Somalia, Iran, Iraq and Afghanistan. With our tailor-made, interactive approach, we make sure each individual participant stays engaged from start to end and create an optimal learning impact. To request tailor-made training, please email us at info@thehagueacademy.com
Practical information
Are you interested in a customised course? We are happy to advise you. You can contact us at info@thehagueacademy.com.
For more information about the virus in The Netherlands, please refer to the website of the Netherlands' National Institute for Public Health and the Environment
Our team will continuously monitor the situation and will inform you in case there is a change in the measures outlined above.
Further reading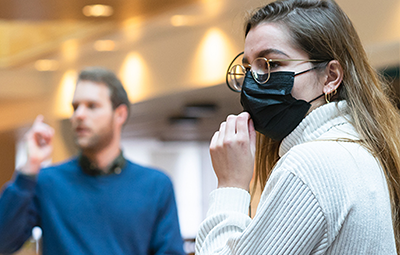 View this gallery for an inside look at the work that goes into developing our online training programmes.
For a closer look at our online LED-course, read: Learning Local Economic Development at a distance
For more information about the role of local governments in combatting an epidemic, read the story about Monrovia.