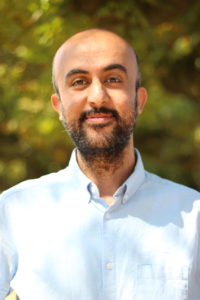 "As the director of Makhmour Directory of Health, I run around twenty Primary Health Care Centers in my region"
My work for the municipality

As the director of Makhmour Directory of Health, I am directly responsible for supervising the health centres' working staff and assuring their needs. I do this by holding periodic meetings, staff training and reporting to the general Directory of Health. I also develop new strategies, plans, recruit new personnel and manage our budget. Finally, I am also responsible for securing special health services, especially preventive measures, and screening of internally displaced people.

Experience in the Netherlands
During the Local Service Delivery training, the learning environment provided inspiring and positive energy. The interactive classes and sharing experiences with the other participants have taught me a lot. The topics of the course were interesting for me, especially the inclusion of vulnerable groups in service delivery. Decentralization was yet another subject of interest for me.
After the two weeks of training at the Hague Academy, I did my internship. I really needed this week of exploring the health system in the Netherlands and how they deliver health services on the local level. It was inspiring to see how they make sure that everyone is involved and included. I found it fascinating to see that the health services in the Netherlands are kept to the national standards, while they are run by the private sector. Learning about the system of Municipal Health Services (GGD) by visiting one of them was very helpful. The health centre I visited was quite an experience for me because I am responsible for 20 Primary Health Care Centers in my region.
Makhmour, Iraq
Makhmour lies within the area that is labelled as "disputed areas" between the Iraqi government and Kurdistan Regional Government according to the Iraqi constitution. It fell into the hands of ISIL, later it was the first area to be retaken by the Iraqi forces. Makhmour town and its territories have a population of around 60,000-70,000. The region primarily relies on agriculture.