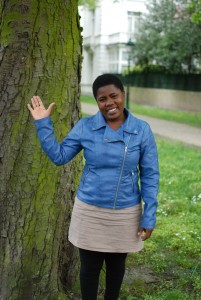 On Friday the 27th of April, our newest talent, Doto Mgasa from Tanzania, met with the VNG trainees of 2012. Doto participated in the Talent for Governance programme 'Citizen Participation & Accountability. She gave a presentation on her experiences in the Netherlands and she told about the lessons she had learnt during the course: 'You should involve people, not only inform them'.
Her visit to a chicken farm was surely one of the highlights during her internship at the municipality of Huizen. In Babati District, Tanzania, many widows are facing food security problems, because with the loss of their husband, they have also lost their main or only source of income. By establishing chicken farms, Doto wishes to improve the food safety of these widows. Although the farms in The Netherlands are more automatic, Doto explains that she still got a lot of inspiration during her visit.
After her presentation, the floor was open for questions. Trainees wished to know more about the political situation in the municipalities in Tanzania. Doto explains shortly and clearly how the political parties operate in her country, and how municipalities work together with the national government. Doto and the trainees share their knowledge, experiences and visions with each other, and it becomes patently clear how much we can learn from each other.