The municipality of Zwolle welcomed Christopher Kabagambe from Kasese Municipality in Uganda from 29 October to 2 November 2012 for an internship programme on the subject of Local Service Delivery.  The two weeks previous to the internship Chris also followed a training course at The Hague Academy for Local Governance.  Both internship and training are part of the Talent programme for which he was selected.
Both Chris and his Dutch civil servant colleagues from the municipality of Zwolle had a great time: .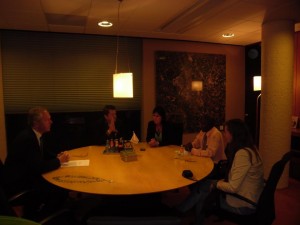 " Again, it was great organising this internship! Elske (out Dutch intern) and myself accompanied Chris everywhere he went. We visited the Water board, the fire department and the Waste company. We also had a meeting with the Mayor and together with my colleague  have discussed varies ways of development and participation.  Erik en Claudia took up the part of host 'mom and dad' again, which resulted, among others, in a visit to a soccer match and a 'Dutch cuisine' night with friends. During the day we had lunch each day which we could use to catch up on all events. It was a lot, so we were tyred but satisfied. Chris called us when he reached the Hague on Thursday night, very sweet of him. And Saturday we had some text contact before he got into the plane. We had a great time again! Karin van der Veer, HR department, Zwolle Municipality.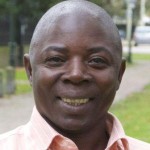 " I enjoyed the hospitality of the staff at Zwolle, the reception of his worship the Mayor and the cordial discussion. All the staff were very co-operative and willing to mentor me and share information with me. My host family ; the Erik Family; very hospitable and caring. The internship fitted well with my interest in a 'hands-on' experience. " Christopher Kabagambe, Kasese Municipality,  Oeganda