We are based in The Hague, the city of the Dutch government, royal palaces and many international organisations and foreign embassies. A city with an interesting historic centre, great shopping opportunities and a variety of musea with famous paintings from Mondriaan, Vermeer and Rembrandt. For more information on The Hague click here.
Our office is situated in the building of VNG, Vereniging Nederlandse Gemeenten, the Association of Netherlands Municipalities. Here we have several training facilities which we can use. Since our office is located in the city centre it's an easy walk to interesting sightseeing places. The Hague can also be reached easily by train from Schiphol Airport.
City of Peace and Justice
The Hague is located in the centre of Europe, between London, Frankfurt, Berlin, Paris and Rotterdam– the world's largest port. The Hague is at the heart of the Randstad, the urban conglomeration in the west of the Netherlands outlined by Amsterdam, Utrecht, The Hague and Rotterdam. The foundation of The Hague as 'City of Peace and Justice' was lain more than 100 years ago in 1899, when the world's first ever Peace Conference took place. Currently, The Hague is the home for the International Court of Justice and war tribunals.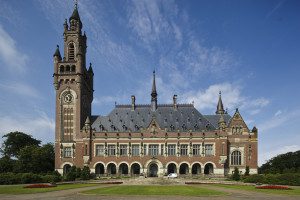 Peace Palace
Facts and figures
After Amsterdam and Rotterdam, The Hague is the third-largest city of The Netherlands with 482,510 inhabitants;
The Hague acts as seat of government although it is not the nation's capital;
Culture: 30 theatres, 26 cinemas, 45 museums, 4,211 shops, 7 markets, 64 hotels, 490 restaurants and 363 cafés;
Green city by the sea: 70,000 trees along the roads, 11 kilometres of coast line, 1/3 of The Hague is green, 1,200 mooring places for pleasure boats, 250 kilometres of bicycle lanes;
Number of international organisations: 131;
Number of international businesses: 316 (responsible for 49,000 jobs);
Number of embassies and consulates: 107 (102 embassies and 13 consulates);
As home to the International Court of Justice, The Hague is the only city outside of New York with a UN main body and is a home base to nearly every international organisation in the field of peaceful administration;
With important international organisations like Europol and Eurojust, The Hague is also a European city.