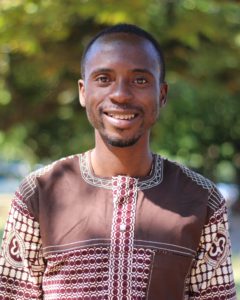 "As a Social Development Officer, my job is to help promote and implement government policies and public services that can substantially improve social inclusion"
My work for the municipality
As a Social Development Officer, my job is to help promote and implement government policies and public services that can substantially improve social inclusion, development of people and communities. To achieve this I work with stakeholders in the three various communities in the district to deliver these social services to the citizens.
Experience in the Netherlands
What was interesting to me during the Local Service Delivery training was how experts linked the topics to real life situations during the plenary sessions and discussions. The experts used countries from which participants were coming from as case studies and this for me was remarkable, as it gave me a clearer picture of the situations and how to address them. My internship experience with De BUCH municipality was also great, particularly with how the Mayor of Heiloo explained the structure of the municipality for me. His team also gave me details on how their social work activities are carried out. The best part of my experience was the guided tours by the Mayor of Heiloo and some of the staff to some of their facilities. These tours showed me the reality of their work and that was very good for me.

My Project "Community Social Protection Committees "
For my project I established community social protection committees in all six area councils of the Chereponi District Assembly. This has become necessary, since most of the social services like the livelihoods empowerment against poverty programme, labour intensive public works, school feeding programme and others implemented in the District have been marred with challenges ranging from either selecting people who do not qualify for such programmes or people who qualify for such programmes are left unselected. This is all as a result of the absence of these committees in the area councils. So activities of individuals involved in the delivery of these social services are not properly monitored and as such the programmes do not consider gender in its implementation. In combination with low level of stakeholder engagement in the communities, this has had a negative impact on social services delivery in the district.
When these committees are formed, they contribute to delivering a well-coordinated, inter-sectoral social protection system enabling people to live in dignity through income support, livelihoods empowerment and improved access to systems of basic services. They promote the wellbeing of Ghanaians through an integrated platform of effective social assistance, social and productive inclusion, social insurance, and financial access to social services. The committees also help to mitigate and reduce vulnerabilities for all, close the inequality gap and ensure total inclusion for all Ghanaians. These committees are formed by the department of social welfare and community development in collaboration with the development planning coordinating unit. The committees are composed of key stakeholders and some members from the unit committees from the communities in the area councils.

Chereponi, Ghana
The Chereponi District has a total land area of approximately 1,374 square kilometers with a total population of 53,394. It can be described as a typically rural are and the major settlements are scattered. Almost 22,000 people over 11 in the district are illiterate. The main occupation of the people is agriculture, with little engagement in trade. It lacks potable water and suffers from poor sanitation, among many other problems.