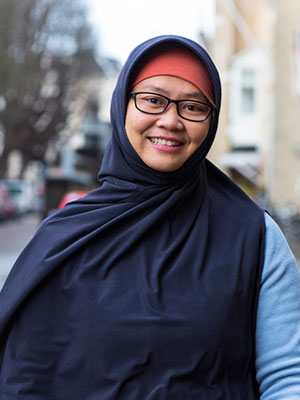 "I hope that I can increase my knowledge, especially about how to enhance the local economic development of our society and to pass on that knowledge to stakeholders in my institution and the agricultural and forestry bureau."
My work for the municipality
As a financial assistant, I make monthly reports for the Kota Langsa Regional Development and Planning Council. I will also participate in a development programme for ecotourism that will be carried out next year.
Experience in the Netherlands
It was very nice to meet colleagues from other countries during the Local Economic Development course. We shared our experiences and talked about the problems we face in our cities. Also, it was wonderful to finally meet the Hague Academy team! During the internship, I gained a lot of new knowledge, practical knowledge. I learned how civil servants in the Netherlands work, how they manage their own time and how they work in teams. I will share this knowledge with my colleagues in my city.
The Mangrove Ecotourism Development programme
I want to bring economic development to Kota Langsa Village by implementing the Mangrove Ecotourism Development Plan, while also making the population more aware of the opportunities offered by ecotourism and involving them in the program without sacrificing nature. Kota Langsa has a large rootstock forest that covers an area of over 1230 hectares but only produces a minimal amount of root mangrove production. There is a potential for developing employment and income in this area. One of the efforts the municipality made is to boost the local economy to target this area for ecotourism. The concept is based on education, conservation of nature and recreation. To fulfil this goal, the municipality has planned several tourist facilities as a hiking trail, playground, cottages, toilets and fishing facilities. In the context of this programme, the municipality will also train the local population to raise awareness of the importance of sustainable ecotourism.