This said one of the participants of the Gender Mainstreaming and Female Leadership course during the concluding session. From 3 – 14 March this course took place at The Hague Academy during which the participants learned about gender responsive policies, female leadership in local governance, gender equality, gender mainstreaming and all kinds of related subjects.
The participants from came  from all over the globe (Afghanistan, Palestine Territories, Kosovo, Bhutan, Philippines, Zimbabwe, Egypt, South-Africa, Cambodia and Pakistan) and despite their various backgrounds they have one certain interest in common. They are all advocates of gender equality. During the training sessions they discussed, gave presentations, shared experiences and worked in teams on different assignments about gender mainstreaming, action planning and female leadership.
During the first week the group also visited the Father Centre Adam in The Hague. One of the participants stated: "The men of the Father Centre emphasized the need for men's emancipation, to make them realize that  they are – as well as women – part of the gender policy and program." The volunteers of the Father Centre explained to the group that men need to be emancipated in order to empower women. The study visit was experienced as very enlightening.
Our associate expert Henk Bruning gave a really interesting and interactive session on how to include gender into HRM policy. The first week was concluded with a session on gender, development, MDGs and the post 2015 agenda, provided by international decentralisation expert Alfonso Garcia Salaues. One of the participants said at the end of the first week: "Some of the sessions this week were 'aha-moments' for me. I could relate, identify and place myself within the examples. These days were provoking and they left me thinking."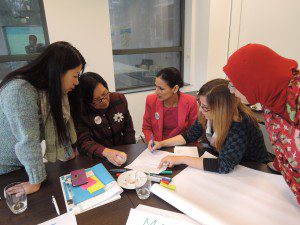 After a weekend break the second week started off very promising again. There was a session on Gender Responsive Budgeting (which was really important to all the participants) and a study visit to the municipality of The Hague where Sangita Paltansing and Ybeltje Nieuwenhout gave a presentation about emancipation within the city of The Hague and emancipation policy of the municipality. Irma Specht (director of Transition International) provided a session on gender and peacebuilding with room for discussing stereotypes, SWOT analyses and presentations of participants own experiences. The last Thursday there was a concluding session on managing emotions and change management.
The two week training course was experienced by all participants as enlightening and very fruitful. On Friday all the participants presented their Back Home Action Plans they worked on during the training. "Thinking about my own role and position back home and relating it to the training's learning  was wonderful. Now I have a plan to take it forward which I did not think of before!", according toone of the participants.
This training will be organised again next year, from 23 March to 3 April, 2015. NFP fellowships will be available again so check our website or Facebook page regulary.