Located in the Himalayan mountains and bordered by Nepal, Tibet and Bhutan, the Indian state of Sikkim is a special region. A state government delegation from Sikkim travelled all the way to The Hague in June 2016 for a 3-day study visit to learn about decentralisation, local finances and financial management.

The 21-member delegation was made up of government representatives from the Rural Management and Development Department, Sikkim's 4 districts (North, East, South and West), the State Institute of Rural Development Karfectar and the Panchayati Raj.
Fiscal decentralisation and financial accountability
After welcoming the group, programme manager for The Hague Academy for Local Governance Nienke Vermeulen started the programme with a brief introduction to fiscal decentralisation. The point she underlined was that the benefits of (fiscal) decentralisation will only materialise if local finances are managed efficiently. One of The Hague Academy's key experts on local public finances, Henri Schreurs, shared his experience and expertise with the participants and they discussed ideas for improving local financial accountability at the local level. The p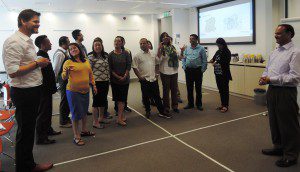 rogramme also examined practical tools and methods for local financial management.
Using interactive training methods, Sander Maathuis challenged the participants to analyse the processes used within their organisations in order to learn how to improve them. Improvements within the organisations will ultimately lead to an improvement in the services provided to citizens. In addition, the delegation visited the Ministry of Interior and Kingdom Relation and the Municipality of The Hague. It also met with financial experts to discuss local government finances in the Netherlands.
According to the delegation, the training was 'an eye opener in many ways'.
It helped us to realise our strengths and weaknesses.
The concept of fiscal decentralisation was made clear.
It was very important and relevant to our context.
The training topics and visits were well devised and they were organised in the best interest and with great relevance to the participants.
The Hague Academy took pleasure in hosting the delegation from Sikkim and in designing and facilitating its study visit to The Hague.