To strengthen capacities for local economic development in Jordan, The Hague Academy implements 9 training courses for staff of the Ministry of Interior and the Local Development Units in the 12 Governorates of Jordan. Throughout 2016 participants will be trained in the following 3 areas: Decentralisation & Public Administration, Local Economic Development and Urban & Regional Planning.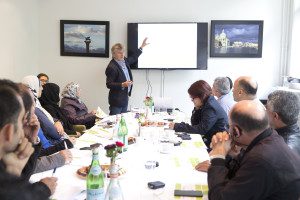 In September 2016, representatives from all 12 Governorates visited The Netherlands for a study tour on local economic development (LED). Participants learned about the policies and best LED practices of the municipality of The Hague and visited entrepreneurship and employment projects of the municipality of Amsterdam. During the week the participants also worked on their LED strategy plans.
This training programme, funded by the European Commission, dovetails well with the Jordanian government's strategy of creating employment and income-generating opportunities. In recent years Jordan has realised considerable economic reforms, leading to greater economic development.
The Jordanian government initially adopted a sectoral approach to private sector development, focusing on large investment projects in sectors such as tourism, agro-industry and pharmaceuticals, as well as on financial incentives to increase economic activity. However, it more recently adopted a more territorial and inclusive approach to development, supporting LED and job creation by focusing on the development of micro, small and medium enterprises. The programme  aims to help government staff at different levels strengthen their knowledge and skills in order to stimulate this type of economic development.
In October this programme will continue with training courses on Urban and Regional Planning.