Course Introduction:
With the majority of the world population living in urban environments today, cities have become the engines of (economic) development and innovation. At the same time, cities have been forced to confront many of the world's most pressing challenges: poverty and inequality, migration, pollution, natural disasters, and other consequences of climate change. In the face of these complex challenges, urban resilience and smart city solutions have become important concepts in the urban governance agenda, providing a way forward for urban local authorities, city planners, urban policy makers and practitioners.
This course on urban governance focuses on strategies, frameworks and tools to strengthen cities' resilience: their ability to absorb and recover from internal and external shock or stress, maintain their essential functions and adapt and thrive in the face of continual change. The course will also cover smart city solutions by examining the role data and innovative technologies play in promoting resilience.
The course combines theoretical debates with practical experiences, real-life scenarios, as well as group work. The discussions are designed to help you answer the following questions:
What must cities be resilient to?
How can cities, as complex systems, adapt and be resilient?
How can cities finance resilience?
How can cities use data and technology to enhance resilience?
The course balances classroom discussions with study visits to the Dutch Ministry of Infrastructure and Water, the Province of South Holland, The Hague Municipality, Amsterdam Urban Ecosystem, Smart City Amsterdam and the Rotterdam Global Center on Adaptation. This focus on practice-oriented learning ensures that participants learn from the best practices of Dutch smart and resilient cities.
Course format:

Due to the travel restrictions associated with the Coronavirus outbreak, the format of the course has been adjusted. We are now offering a practice-oriented online course, consisting of two parts:
First module: This module will consist of several assignments spread throughout the timeframe provided. This is an opportunity to learn about the topic (while enhancing your online skills in an innovative e-learning environment) and prepare you for the next part of the course.
Dates: 1 March to 9 April 2021.
Second module: The second module has a duration of one week in which we will introduce new content and organise virtual study visits and daily live sessions with experts. We expect participant's full participation during this week. At the end of this week, participants will have two more weeks to complete the training assignments and their back home action plans. During these weeks, they can also ask outstanding questions to the course facilitators and experts, and they will receive feedback on their course work.
Dates: 21 June – 9 July 2021.
Key Information
This training will be held fully online.
The deadline for applications is 5 February 2021. 
Group discounts available if you participate with three or more colleagues.
For general inquiries, please contact info@thehagueacademy.com or call +(31) 70 37 38 695.
Learning Objectives
You will gain practical knowledge on how to:
Assess the vulnerability of cities using resilience strategies and frameworks;
Develop strategies and roadmaps for urban resilience in an inclusive and participatory manner;
Make effective and ethical use of data and innovative technologies to design smart solutions to support resilience;
Mobilize key stakeholders to establish sustainable partnerships to build resilient and smart cities.
Intended Audience
This course is intended for professionals working for:
Municipal, provincial or national authorities involved in urban governance and development such as city planners and urban policy makers.
Donor organisations or NGOs involved in building cities' capacity for resilience and designing future proof cities.
Experts
The following experts will contribute to this course:
Bob Hendriks is a senior expert in inclusive and sustainable integrated urban development. He has 25 years of international experience in the fields of resilient cities and communities, urban and regional planning, informal settlements improvement and sustainable land tenure systems. He has worked together with governments, civil society, the private sector and knowledge institutes, namely in sub-Saharan African countries. Bob holds a PhD in Human Geography, Planning and International Development Studies. He has developed various innovative tools and methodologies in the fields of citizen-led co-design of cities and community-driven, inclusive, sustainable and collaborative land governance.
Sara Hoeflich de Duque is in charge of the portfolio on decentralised cooperation and city-to-city learning at United Cities and Local Governments (UCLG). She started working at UCLG in 2006, after almost 10 years working for GIZ in Indonesia and Colombia, in the field of urban planning and management. She holds a diploma in engineering from the University of Aachen and is an architect and urban planner. Sara has over 20 years of experience in international cooperation, urban development and strategic planning.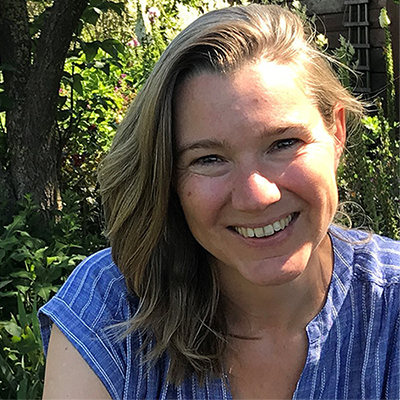 Dorien Zandbergen is an anthropologist of digital culture and politics, with a focus on the role of data in the everyday life of cities. She has a PhD from Leiden University and has studied the complex politics of urban digitisation. Dorien is currently an independent scholar, researcher and facilitator. She is also the founder of Gr1p, a non-profit that aims to facilitate better public understanding of and more active involvement in contemporary digital infrastructures. In the course, Dorien will use the game "Unfrequently Asked Questions" to open up a lively discussion on open data in an urban context.
Practical Information
The course fee is € 3.150,-. Group discounts are available if you participate with three or more colleagues in this course. Email us for more information. The course language is English.
For questions or more information about this course, please email info@thehagueacademy.com or call +31(70) 37 38 695.
Participants in our courses are predominantly funded by their own employer (municipalities, Ministries, NGOs and training or research institutes) or by a donor or development agency. If you are looking for additional funding opportunities, there are a few organisations you could approach.
Nuffic Scholarships
The Netherlands Organisation for International Cooperation in Higher Education (Nuffic) offers scholarships for training courses in the Netherlands. These scholarships seek to develop and strengthen the skills, instincts, and abilities of professionals to enable their organisations and communities to succeed in an ever-changing world.
Please note that scholarship applications for this course have already passed. For more information regarding eligibility and application procedures, please visit our Scholarships page.
Application Deadline
The application deadline is 5 February 2021. Incomplete applications will be neither accepted nor considered in the selection process.

(If you are applying for a scholarship, you DO NOT need to register for the course first. Please go straight to the scholarship application form.)
Payment
After submitting your completed application, you will receive a confirmation of your course registration and an invoice. The payment deadline is 1-week after the application deadline.
Payments can be made by bank transfer or by PayPal. We offer the option of paying in one or two installments. An advance payment of 50% secures the reservation of a seat to the training until the payment deadline. However, your participation in the course is guaranteed only after receipt of full payment prior to the deadline.
If no payment is received before that deadline, then your registration will automatically be canceled. Please note that The Hague Academy accepts registrations on a first-pay, first-served policy.
Some countries require a visa to enter the Netherlands. Please check with The Netherlands or the embassy for the visa requirements related to your country. Because of the length of time needed for the visa procedure, we advise you to start this process as soon as possible. The Hague Academy will send you an acceptance letter that will assist you in arranging your visa, but only after we confirm your payment.
Cancellation
Payments received before the deadline will be reimbursed. However, an administration fee of €150 will be charged to fulfill this request. We strongly encourage you to start with the visa application procedure at least six weeks before the start of the training programme in order to prevent late cancellation.
A cancellation fee of 50% of the course fee will be charged for participants cancelling between four and two weeks prior to the start of the training. If you cancel your participation within the two-week period before the start of the course, then you will be required to pay 80% of the course fee.
In the event that you cannot attend the course, it is possible to nominate a suitably qualified candidate to replace you without extra charge.
The Hague Academy for Local Governance reserves the right to cancel a course if the number of participants is insufficient or due to any other unforeseen circumstances. In this case, your payment will be 100% reimbursed. Other costs such as transportation or hotel cannot be reimbursed.
Contact Information
For questions about this course and procedures, or to inquire about our tailor-made courses on inclusive service delivery, please contact us by email at info@thehagueacademy.com, or dial +31-70-3738695.