Given the complex realities of present-day conflict and post-conflict reconstruction, contemporary international peacekeeping missions are multifaceted, involving military, political and development issues. For the military, it is crucial to establish good working relations with its civilian partner organizations as well as with local authorities. Training this so-called Comprehensive Approach was one of the main aims of the military exercise Peregrine Sword, in which VNG international (VNGi) and The Hague Academy (THA) participated this Autumn.
From 16 to 28 September 2012 the 1 (German/Netherlands) Corps organized the military exercise Peregrine Sword (PGSW) in Wildflecken, Germany. The aim of the exercise, in which 6500 military personnel and their civilian partners participated, was twofold. First, the combat readiness of the Dutch 11 Air Manoeuvre (11AM) Brigade was evaluated by having the Brigade plan and carry out combat operations. The Brigade indeed (re)certified as 'Combat Ready' and as such can be deployed in NATO missions.
The second aim of the exercise was to practice the so-called Comprehensive Approach. The training scenario, the virtual fragile state Tytan, reflects the complexities of many contemporary conflicts where, in order for a mission to be successful, military, political and development issues should be tackled simultaneously. More than 100 civilians representing different organizations, including among others the Netherlands Ministry of Foreign Affairs and UNHCR, participated in the exercise in order to take civil-military cooperation to a higher level.
VNG international and The Hague Academy worked together on incorporating the sub-national governance level in the training scenario. To this end, VNGi worked closely together with the 1 (German/Netherlands) Corps to design Tytan's sub-national government structures and develop storylines that specifically targeted the interaction between local authorities, such as Governors, mayors and tribal leaders, and the military, as well as the military's sensitivity to local governance dynamics. THA was responsible for coordinating a team of experienced role players to play out the various storylines and train the military's interpersonal skills and cultural awareness. The team consisted of former Dutch mayors, training actors and consultants in the field of local governance.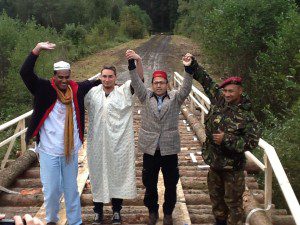 One of the storylines involved the military building an actual wooden bridge. In the preparation phase, the Brigade had to communicate carefully with the local Governor, the Minister of Planning, local mayor and tribal leaders about the exact location of the bridge, the planning of the construction process, etcetera. On request of the military, there was an official ceremony to celebrate the opening of the bridge during which the local leaders expressed their thanks and awarded the responsible Captain with a 'Certificate of Appreciation'. A glimmer of hope amidst the difficulties the Brigade was facing in Tytan.