From 7-11 July 2014, we organised our summercourse on Decentralisation and Local Governance. We were able to welcome a number of practitioners from a wide range of countries, including Mongolia, India, Lesotho and Somalia.
This course discussed the technical and political economy aspects of decentralization and local government reform, and highlighted the importance of inclusive development in decentralization. As one of our trainers Dr. Jamie Boex stressed: "It's not about empowering local governments, it's about empowering local communities". This approach was appreciated much appreciated, one of the participants stated "I think everybody working in decentralisation needs this course! It is an excellent insight into how decentralisation works in the real world!".
The group visited The Hague Environmental Services to see the waste management process in action, see below.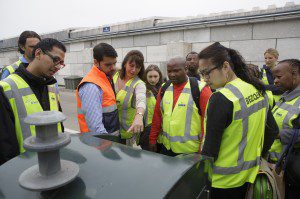 This course will be organised again next year from 6 to 10 July. More information will be available soon on our website.