The Local Economic Development course took place from 11 – 22 November 2013 in The Hague. The course focused on strengthening the economic capacity of a regional community to make optimal use of the existing and potential characteristics of the area. Moreover, participants identified challenges and opportunities for strengthening the local economy and job creation together with stakeholders at local, regional and national level.
Despite the weather conditions which were not that good, it was cold and rainy, we had 21 very enthusiastic participants during these two weeks. This course brought people from all over the world together in The Hague, ranging from countries like Indonesia, to Sudan, Ukraine and Nepal. As the participants came from very diverse professional backgrounds (ministries, NGO's and municipalities) they could share and learn a lot from each other. A participant stated: "Excellent course, broad scope of content, excellent presenters with broad international experience. Maybe the single biggest plus for me was the international mix of inputs and shared learning."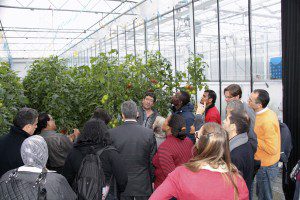 During the course attention was paid to the scope and structure of LED (Aladeen Shawa, UNCDF), LED in resource rich areas (Varsha Venugopal, Revenue Watch Institute), economic development in rural areas (Alfonso Garcia Salaues, international LED expert) and to the LESD concept meaning local economic and social development (Irma Specht, Transition International). Next to the lectures we visited the Municipality of Westland to see the greenhouses and an industrial area in The Hague to experience local LED practices.
All together, it was a truly inspiring course made possible by our eager participants and excellent experts! "We should try to give the message that, even a country is fragile and unstable in relation to government changes, LED could still bring some positive changes," according to one of the participants.
Also interested to participate in this course? We will organise it again next year from 17 – 28 November and there are NFP fellowships available. For more information click here.