With a room full of participants still wearing their coats, the Citizen Participation and Accountability course was about to start. The participants apparently underestimated the cold weather in The Netherlands, but the trainers of The Hague Academy, Suzanne Janssen en Nienke Vermeulen, knew what to do. They let the participants introduce themselves in a very active way, by which they warmed up and some of the coats disappeared in the closet.
On 16 April 2012, the course 'Citizen Participation and Accountability' started in The Hague, the Netherlands. The participants came from different corners of the world, ranging from The United States and Iran, to Sudan and Tanzania. Some worked for their municipality, others worked for an NGO, but they all came together to share their experiences and learn about citizen participation and accountability.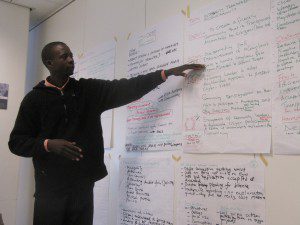 The first week had a very diverse program. Participants worked on exercises, were inspired by video materials, gave several presentations, and visited the municipality of Amsterdam West and several citizens initiatives. Most participants were particularly impressed by the diversity and expertise of the vast pool of experts, who were able to share their knowledge and practical experiences in a short amount of time. The second week was divers and interactive as well. However, this time participants started to utilise the knowledge and tools they had learnt in the past days, during exercises, short simulations and presentations. Many of the participants were impressed by the level of political participation of the youth, and some expressed their surprise about the accessibility of the Dutch Prime Minister who goes to work by bike every day. ´That would never happen in my country!´, said one of the participants.
The last days were mostly spend on addressing and discussing the back home actions plan. Equipped with new knowledge, skills and tools, their initial ideas of projects to implement in their municipality changed, and many took a pledge to become an agent for change.
The Hague Academy wishes to express their thanks to all participants for their active participation, and hope they can implement their projects successfully!
Also interested to participate in this training course? It will be organised again from 17 to 28 June 2013. From 17 July to 2 October 2012 you can also apply for a NFP fellowship for this course, see www.nuffic.nl/nfp for more information.