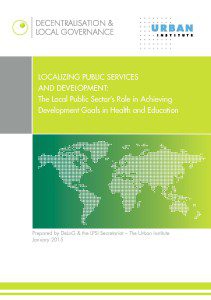 Expert Jamie Boex is the lead author of the recent DeLoG (Development Partners Working Group on Decentralisation and Local Governance) study "Localizing Public Services and Development: The Local Public Sector's Role in Achieving Development Goals in Health and Education". This study analyses whether differences in local governance and local administrative practices have had an impact on poverty reduction and MDG outcomes in sectors such as health and education.
Jamie will discuss the results of this study in our Summercourse : "A local perspective to the Sustainable Development Goals" which takes place from 6 to 10 July 2015 in The Hague.
During this course we will also discuss the latest insights and recent lessons in decentralisation and sustainable local development. We will explore the potential of local governance in realising sustainable development, while taking into account the political economy of decentralisation reforms with political economy expert William Kingsmill from the UK Policy Practice.
Interested in this course? Application is still open. Click here for more information.