How will our world look in just two generations to come when it is projected that 70 percent of humanity will be living in towns and cities? What percentage will continue to live in abject poverty? How much dirtier will cities make our planet? These were central questions discussed at the World Urban Forum 5 in Rio de Janeiro from 22 until 26 March. The Hague Academy for Local Governance contributed to the successful Forum by organising a masterclass on "Conflict Management and Social Cohesion in Cities" and by being present with an information stand.

The World Urban Forum (WUF) was organized by UN-HABITAT to examine the issue of rapid urbanisation and its impact on communities, cities, economies and policies. According to available statistics around 13,500 participants from 150 countries around the world attended the WUF. Many of whom were able to find the information stand of The Hague Academy and we enjoyed the interesting and inspiring conversations with Minsters, City Managers, and other professionals committed to strengthening local governance worldwide.
Lottery
At the stand, people were invited to participate in a lottery to win a free training course at The Hague Academy or a discount voucher for one of our courses. Please find photos of the third and second prize winners below. The lucky winner of the first prize is Ms. Angeline S. L. Mabula. Ms. Mabula works for the regional administration and local government in Tanzania. We are looking forward to meet all the prize winners again in The Hague.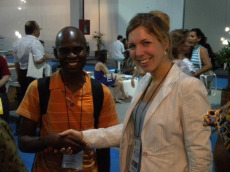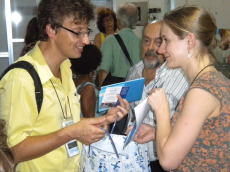 Masterclass Social Cohesion in Cities
The masterclass that we organised discussed how to manage conflict in cities and how to come from social exclusion to social inclusion. "Social cohesion is the glue that keeps society together and strengthens integration, participation and solidarity. It is an ongoing process to reach common values, shared challenges, and equal opportunities", our trainer professor Gerd Junne, Chair in International Relations at the University of Amsterdam, emphasised. During the masterclass participants were encouraged to think – in small groups – about how to deal with problems in fictional case studies, as well as in their own cities. The training session was concluded with a panel session of specialists from Kinshasa, Monrovia and Rio de Janeiro, sharing their experiences on conflict management and social cohesion.