Last month, a group of 23 civil servants from 9 countries in the MENA region gathered in The Hague for the first part of the Shiraka training on Local Governance. The Shiraka programme is funded by the Dutch Ministry of Foreign Affairs and commissioned by The Netherlands Enterprise Agency, and it seeks to support democratic transition in the MENA region. On the basis of the Dutch experience of local governance, which was explored in depth through various sessions and study visits, the participants gained valuable insights on how to achieve good governance at the local level. In addition, they were inspired by the experiences of their fellow participants which were shared throughout the course. This provided a fruitful starting point for designing their Back Home Action Plans and stimulated them to think about actions and strategies to apply what they learned in their own countries.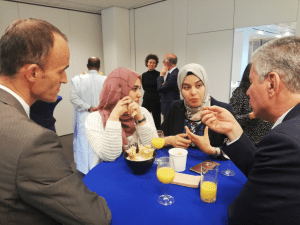 The training contained interactive presentations in which the basic notions of local governance such as inclusive service delivery and fiscal decentralization were discussed and illustrated through practical examples and case studies. The participants were particularly inspired by the study visit to the Association of Provinces of the Netherlands, which taught them valuable lessons about the inter-governmental cooperation in the Netherlands. Another study visit to Community Centre 'De Mussen' within the Neighbourhood Regeneration Program in The Hague, showed them the importance of Citizen Participation in Local Governance. Furthermore, the participants got a chance to develop their skills by engaging in a negotiation workshop. The group will get together again in October in Tunisia for the second part of the training, to get a first-hand experience with the best practices of local governance in the MENA region.
---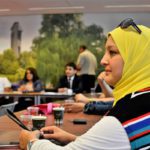 Shiraka is a Netherlands-MENA partnership initiated by the Dutch Ministry of Foreign Affairs and commissioned by the Netherlands Enterprise Agency (RVO). The programme convenes participants to improve bilateral relations and support sustainable democratic transitions in the MENA-region.
Shiraka includes a training programme from which The Hague Academy develops and leads trainings in three core areas. These training courses are designed for senior public officials and contribute to regional development by combining theory, practice, and site visits.
Click here for more information about the Shiraka programme.